Field Trips
There are still a few places available for the excursions. If you are already registered and want to add an excursion to your booking, please contact via GeoBonn2018(at)fu-confirm.de. We will be happy to book the excursion for you!
Start & end: Main Building of Uni Bonn (Regina-Pacis-Weg 3, 53113 Bonn)
Please note:
Your field trip booking shall only be valid if both your conference and your excursion fee have been paid into the conference account in full.
If you are interested in taking part in a field trip that already is fully booked, please contact the conference secretary in order to get on the waiting list.
In case that you have to cancel your participation in a field trip, please let the conference secretary know at the soonest. There may be other conference delegates on the waiting list for this field trip.
If we have to cancel a field trip because there are too few participants, we will inform you per e-mail ASAP, and the excursion fee will be refunded fully. Reimbursements etc. will be handled on site in Bonn at the registration desk in cash. However, please note that no reimbursement can be given for cancellations later than Wednesday, 16 May 2018, because at this time, we already have booked the busses, etc.
Field Trip 1: Carboniferous in the southern Ruhrgebiet (cancelled)
Excursion guides:
Dr. Gösta Hoffmann, Steinmann-Institut Uni Bonn
Dr. Volker Wrede, GeoPark Ruhrgebiet e.V.
Date: Saturday - Sunday 1.-02.09.2018; departure in Bonn: 8 h, Return to Bonn 18 h
Price: € 155
Max. number of participants: 30; Minimum number of participants: 10
Accomodation at Parkhotel Witten in single room is included!
Lunch and Entrance in "Zeche Nachtigall" are included, too.
The 2-day fieldtrip will cover the most important outcrops in the southern Ruhrgebiet. Here, the depositional environment of the coal-bearing carboniferous sediments as well as the structure of the Ruhr Carconiferous will be discussed. Another focus will be on the mining history. Another focus will be on the mining history.
​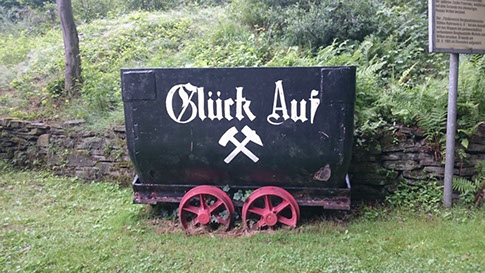 Field Trip 2: Rodderberg and Drachenfels: Classical geology and new challenges on either side of the Rhine
Excursion guides:
Franz Binot, LIAG Hannover
Prof. Dr. Nikolaus Froitzheim, Steinmann-Institut Uni Bonn
Mathias Knaak, Geologischer Dienst NRW
Prof. Dr. Roland Strauß, Geologischer Dienst NRW
Marco Wolf, BGR Hannover
Date: Sunday, 2.9.2018; departure at 9 h in Bonn, arrival at 17 h in Bonn
Price: € 50
Maximum number of participants: 32, Minimum number of participants: 10

Requirements

: Outdoor shoes; the excursion comprises some hiking along easy paths. Ascent of Drachenfels covers about 200 m altitude difference (alternative: Drachenfels cog railway).
Morning: Pleistocene ash- and scoria ring of the Rodderberg Volcano - Outcrops and presentation of scientic drilling results.
The Rodderberg volcano comprises a sediment-filled crater depression of 800 m diameter, surrounded by a low ash and scoria ring and carved into the Devonian basement. Volcanic rocks are nicely exposed at the surface but their volume appears to be minor. During scientific drilling by LIAG (Hannover) in 2011, 72 m of sediment fill were found under the crater centre, underlain by ash and scoria beds transitional into massive foidite to basanite lava down to a depth of 164 m where drilling stopped. Preliminary results from the sediment fill suggest that it comprises several glacial-interglacial cycles, in line with a published 321+-37 ka thermoluminescence age of the ejecta.
Afternoon: Geology and extensive rock securing measures at the Drachenfels, Siebengebirge.
The excursion will cover a range of topics including the geology of the Teriary volcanic rocks at the Drachenfels with its beautiful sanidine phenocrysts, the ancient quarry workings and the use of the rock as building material for important buildings such as the Dom in Cologne, and the ongoing problems with rock failure and cliff collapses and the resulting securing measures. At present the entire rock cliff is covered with scaffolding, and, thus, it is possible to reach any point along the cliff for detailed studies (depending on work progress the scaffolding might be removed by August – but this does not effect the excursion). The present work comprised 3D capturing of the cliff utilizing tLIDAR and drones to establish the fracture network, drill holes and tele viewer analysis to complement the fracture network analysis from inside the cliff, and numerous geotechnical securing methods.
​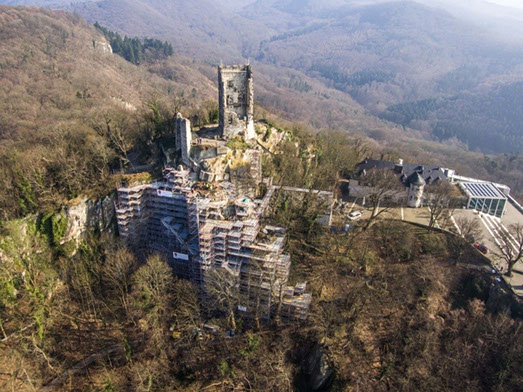 [Figure: Overview of the remediation work at Drachenfels; Picture rights: Bezirksregierung Köln]
​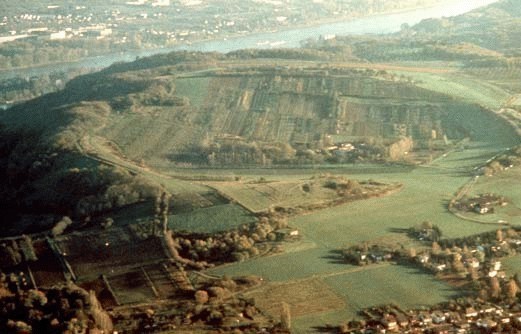 [Figure: Rodderberg Crater on the Rhine]
Field Trip 3: Braunkohlentagebau und -Kraftwerk
Excursion guides:
PD Dr. Klaus-Dieter Grevel, Uni Jena
Dr. Georg Heumann; Uni Bonn
Date: Friday, 7.9.2018; departure at 7 h in Bonn, arrival approx. 17 h in Bonn
Price: € 45
Max. number of participants: 23; Minimum number of participants: 15

Requirements

: Outdoor shoes; Not suitable for people with pacemakers and implants with metal.
Lunch at the canteen of Kraftwerk Neurath included!
​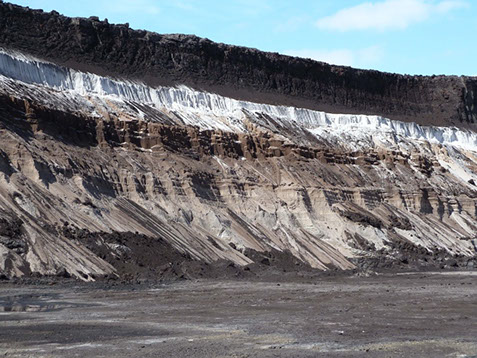 ​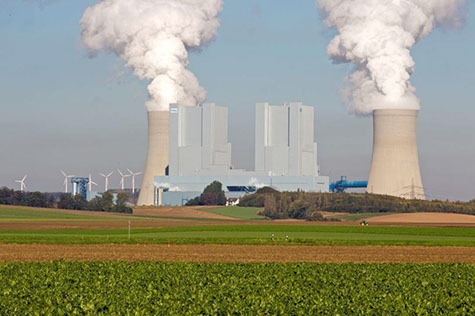 Field Trip 4: Reefs, Romans and Volcanoes - Excursion to the Geology and Palaeontology of the Eifel
Excursion guides:
Prof. Dr. Thomas Litt; Uni Bonn
Prof. Dr. Jes Rust; Uni Bonn
Date: Friday, 7.9.2018; departure at 9 h in Bonn, arrival approx. 18 h in Bonn
Price: € 40
​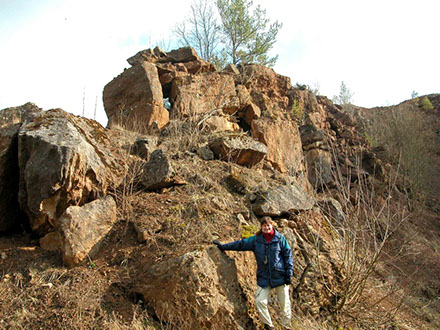 ​